27.08.2020
AERODOM delivers to CESAC equipment and supplies for sanitary protection against COVID19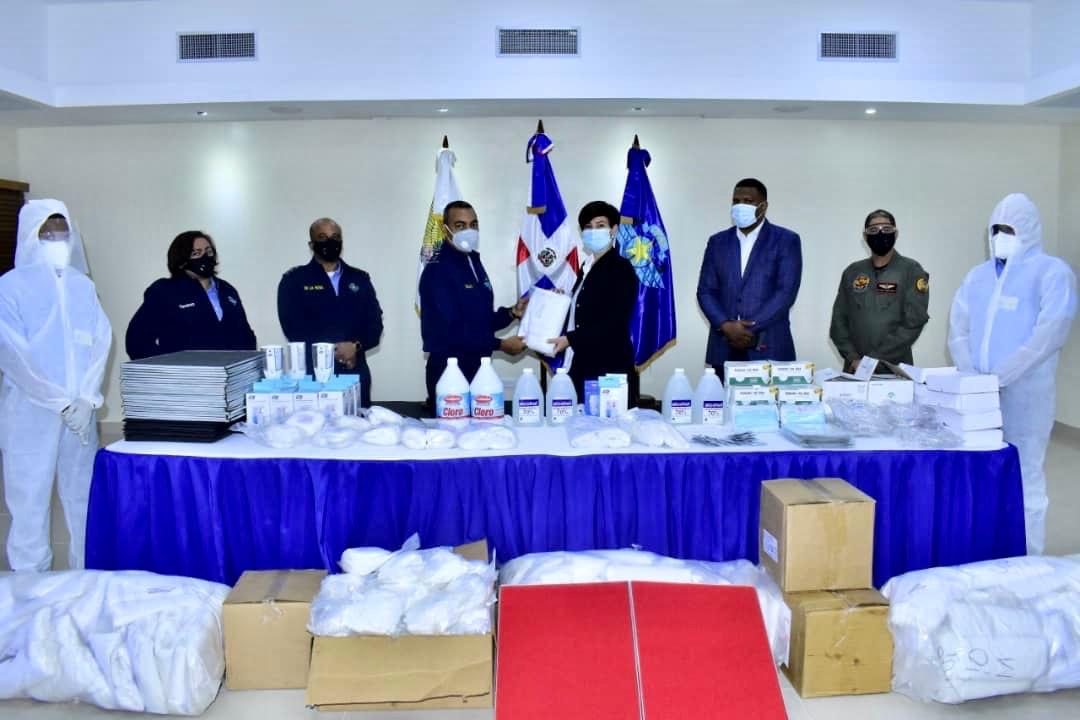 The supplies were delivered during a courtesy visit to the new general director of the institution, General de Brigada Técnico en Aviación, Carlos Ramon Febrillet Rodriguez, FARD.
Santo Domingo, RD- Aeropuertos Dominicanos Siglo XXI (AERODOM, a subsidiary of VINCI Airports) delivered to the Dominican Specialized Corps of Airport Security and Civil Aviation (CESAC) equipment and sanitary protection supplies to reinforce the response capacity of that organization against the virus COVID19, in compliance with Article 14 of Regulation 376-16 that regulates the acquisition and maintenance by airport operators of equipment, systems and auxiliary facilities for airport security and civil aviation.
The supplies delivered in this first batch included 35,000 disposable N95 and surgical masks, chlorine, 70% isopropyl alcohol, dispensers and supply of disinfectant gel, disinfectant towel packages, gloves, protective glasses, protective suits, plastic face shields (face shields). ), disinfectant carpets and rapid COVID-2 tests, as part of AERODOM's commitment to CESAC to provide inputs for a total of RD$60 million pesos.
"From AERODOM we have the firm commitment to provide all our support and collaboration to CESAC, providing them with the appropriate facilities, equipment and technologies to carry out their work. Just a few weeks ago we delivered a new and modern facility for its staff at the Gregorio Luperón Airport in Puerto Plata, and today we are proud to deliver these supplies to continue protecting the staff of that institution that provides service in concessioned airports against COVID19 "stated the general director of AERODOM, Mónika Infante Henríquez.
The delivery was made at the conclusion of a courtesy visit to the new general director of the institution, General of the Technical Brigade in Aviation, Carlos Ramon Febrillet Rodriguez, FARD, in which they expressed their congratulations on his appointment and made themselves available to the new Director to continue working closely and promoting the recovery and development of the air transport industry.
Airports, as strategic places frequented by millions of people that serve as gateways to countries, are a point where complex logistics operations that demand great attention to security converge. The CESAC has maintained the highest assessment of the continent in airport security and civil aviation according to the International Civil Aviation Organization (ICAO), for the effectiveness in the application of its controls.
AERODOM is part of the VINCI Airports network since 2016, which is the leading private airport operator at a global level responsible for managing and operating 46 airports around the world.
About AERODOM
AERODOM is a Dominican company that has the concession to operate six state airports in the country, expiring in 2030. It handles an annual average of five million passengers. Since 2016, the company is part of the French international airport group VINCI Airports, which is the leading global private airport operator responsible for managing and operating 46 airports in France, Portugal, the United Kingdom, Sweden, Serbia, Cambodia, Japan, United States States, the Dominican Republic, Costa Rica, Chile and Brazil. In 2018, the VINCI Airports global network handled 240 million passengers. More detailed information is available at www.vinci-aiports.com
About CESAC
The Specialized Corps in Airport Security and Civil Aviation (CESAC) is a dependency of the Dominican Ministry of Defense, an organization created by Decree 28-97, in 1997, with the purpose of being the main person in charge of its own tasks and responsibilities. to airport security. More detailed information is available at www.cesac.mil.do